We have several different belt style radiometer available. The Diskure 365 and EIT Power Puck II and Uvicure Plus II are our most popular models..
EIT POWERPUCK® II AND UVICURE PLUS II RADIOMETERS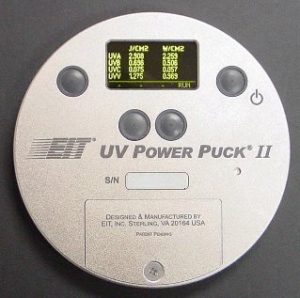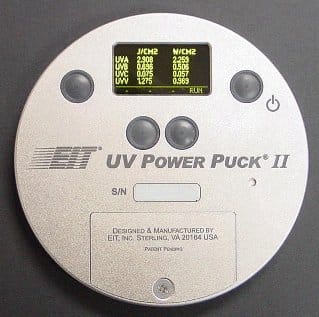 The EIT POWERPUCK® II AND UVICURE PLUS II RADIOMETERS measure UV Peak irradiance (mW/cm², W/cm²) and total energy density (mJ/cm², J/cm²) of one spectral bandwidth (Uvicure Plus II) or 4 different bandwidths simultaneously (UV Power Puck II).
Features:
New graph, data, and reference modes to provide choices in how to view the collected data

Compact Size: 117mm x H 13mm
Self-contained – battery-powered (user-replaceable AAA batteries)
Unit communicates via cable to your PC
Applications:
Curing applications of inks, adhesives, solder masks, and epoxies (not for use in web press applications)
Measure lamp performance
Compares the efficiencies of different UV curing systems
Compare any current reading to chosen baseline reference to compare your system over time
Establish UV level for proper curing
The radiometers that first set the standard for the UV industry are now setting a new standard with advanced features and an easy to read display, multiple user selectable modes, and PC communication for data logging and trending capabilities, and process verification. The new EIT Instrument Markets UVICURE Plus II and UV Power Puck II are advanced versions of the UVICURE Plus and UV Power Puck widely used throughout the global UV industry. With user selectable sample rates, these new instruments can be used for fast conveyor lines or slower lines, and measurements are compatible with other EIT products.
Standard Features and Benefits Include:
Easy to Use – One-Button Operation for On/Off and Run

Easy to Read – Data Display of All 4 Bands.
Data collected for all 4 bands on the UV Power Puck II is displayed simultaneously on screen in mW/cm² and mJ/cm² for quick and easy viewing by the operator. No need to toggle through all eight readings, one screen at a time. Soft buttons are used for function selections, and are indicated on the bottom of the display for easy operator selection and use.
EIT POWERPUCK II
Standard range -M007-040
Delivery time : 5-6 weeks

Standard EIT Multiple Bandwidths :
UVA (320-390nm), UVB (280-320nm), UVC (250-260nm), UVV (395-445nm)

Setup Function – Provides user selectable instrument default modes for data analysis and comparison, screen, and operational settings.
Reference Mode – Used for comparison between readings. Can be useful for system setup and troubleshooting. The user can store the selected UV reading in the radiometer as a base line or reference reading, then compare that reading to another. The radiometer will display both readings and indicate the percentage of change between readings. Data is displayed in mJ/cm2 and mW/cm2, and percentage.
Graph Mode – A graph illustrating the collected UV irradiance and energy is displayed for each of the UV bands. Data is expressed in mW/cm2 vs. time. Graphs at right illustrate both a one and two-lamp system.
User Selectable Sample Rate
Smooth On Data: Compatible with previous Power Puck versions.
Smooth Off Data: Compatible with UV PowerMAP at over 2000 samples per second.
Unit of Measure – The unit of measure is user selectable to provide ease of reading for operators. Display the data as you want to see it. Selections are: mJ/cm², mW/cm², J/cm², W/cm², µJ/cm², µW/cm²
Colorful, Easy to Read Display
Select low, medium, or high intensity for the graphical display.
Communications Port – Serial communication protocol between unit and PC/PDA. Download collected data to a computer for statistical analysis and data logging, and process verification.
Specifications :
SPECTRAL RANGES
UV Power Puck® II – 4-channel continuous monitoring. 320-390nm (UVA), 280-320nm (UVB), 250-260nm (UVC), 395-445nm (UVV)

UVICURE® Plus II – 1-channel continuous monitoring. 320-390nm (UVA), 280-320nm (UVB), 250-260nm (UVC), 395-445nm (UVV)
Standard High Range
UV Power Puck® II – UVA, UVB, UVV, AND UVC – 100mW/cm² to 10W/cm² / UVC – 10mW/cm² to 1W/cm²

UVICURE® Plus II – UVA, UVB, UVV, OR UVC – 100mW/cm² to 10W/cm² / UVC – 10mW/cm² to 1W/cm²
CUSTOM ORDER – Mid-Range: UVA, UVB, UVV -10mW/cm² to 1W/cm² / UVC: 1mW/cm² to 100mW /cm²
CUSTOM ORDER – Low Power: UVA, UVB, UVV – 1mW/cm² to 100mW/cm² / UVC – 1mW/cm² to 100mW/cm²
Accuracy +/- 10%; +/- 5% typical
Spatial Response Approximately cosine
Operating Temperature 0-75°C Internal temperature; tolerates high external temperatures for short periods (audible alarm indicates when temperature has exceeded tolerance)
Time-Out Period 2 minutes DISPLAY mode (no key activity). A no time-out mode can be supplied
Battery Two user-replaceable AAA Alkaline Cells
Battery Life Approx. 20 hours with display on
Dimensions: 117 mm x 12.7 mm (D x H)
Weight 10.1 ounces (289 grams)
Package Material Aluminum, stainless steel
Carrying Case Material Cut polyurethane interior, scuff resistant nylon exterior cover

Carrying Case Weight : 260 grams
Carrying Case Dimensions :  274 x 89 x 197 mm (W x H x D).
The DISKURE 365™ Radiometer is the most economical pass-through radiometer for measuring UV radiation levels in high intensity, high energy curing environments. It is a UV dose measuring instrument small enough (140 mm diameter x 13mm height) for use in most UV curing ovens.
It is ideal to ensure quality control of printing and drying processes. A sensor on one side is exposed to the UV source and the other side contains a digital LCD which displays direct energy readings in mJ/ cm². Big size, heavy duty pass-through Integrator with a diameter of 140 mm. It is reliable and simple to use.
The DISKURE 365™ is now available in six different measuring ranges: Diazo 350 – 460 nm UV-A 315 – 400 nm Full UV 250 – 410 nm UV-B 280 – 315 nm UV-C 230 – 280 nm UV-V 395 – 445 nm
The aluminum housing can withstand exposure to oven temperature as well as intense vibration and shock. This durability makes the DISKURE 365™ ideal for measuring UV light energy in harsher environments such as photosensitive resist exposure systems, processing equipment, print plate exposure systems and most UV curing ovens. Special filters and photodiodes absorb the visible as well as the IR portion of the light, so that measurements are made only on the required spectral region. After exposure, the radiometer's LCD shows the total UV measured in mJ/cm² to which the unit was exposed.
DISKURE 365
Standard range -M007-091
Delivery time : 3-4 weeks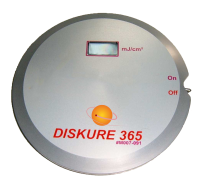 TECHNICAL DATA:
Spectral range: Varies (see above) 

Measuring range: 0 to 5,000 mW/cm²
Display: 6-digit LCD
Display range: 0 to 999,999 mJ/cm²
Power source: long life 3.6 V
Lithium Battery Power consumption: 100 µA
Battery service life: 10,000 hrs
Dimensions: 140 mm Height 13 mm
Weight: approx. 500 grs.
Temperature range: 0 to 45° C
Heat protection: Heat shield on back plate
Base Accuracy: ± 5 %
Calibration:  Every 12 months based on average use