In the so called «radiation curing» process, in which different kinds of electromagnetic radiation are used – IR, UV, coherent/laser radiation, visible light radiation,  (ELECTRON BEAM – EB) energy is more and more used in industry !
Electron Beam equipment are used to modify surface and bulk properties of polymer films by grafting or crosslinking, but also for initiating polymerization and curing.
Electrons are generated with a wolfram (tungsten) filament in vacuum. The electrons are accelerated in an electric field towards a window allowing them to escape from the vacuum chamber. Samples underneath the beam are subjected to the electrons, which are creating cascades of new, lower energy electrons, when colliding in the material. The penetration depth is a function of material density and acceleration voltage.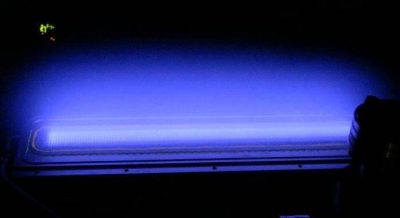 Electron beam instruments are often classified as high energy (5.0 – 10.0 MeV), medium energy (0.5 – 5.0 MeV), and low energy accelerators (80 – 300 keV). 
EB have been successfully applied in many applications, including:
Curing / Drying Ink and Coatings on Paper, Paperboard, Film, and Metal.
Curing Silicone Release Coatings.
Curing Adhesives Used in Laminating Paper, Foil and Wood Products.
Crosslinking Plastic Film.
Surface Decontamination
Sterilization
…..
Our EB experts can help you to :
Define the most suitable EB solution for your process.
Provide you with training on EB technology and safety considerations.
Supervise the erection of the system.
Start-up and commission the equipment on your site.
Deliver spare parts when needed.
Prepare all the regulatory papers for the authorization of use for the equipment