Make sure your equipment is properly
maintained
!
RADSYS understands how important your machine's reliability and performance are to your company's bottom line. Just like an automobile, a machine that runs for many months or years with no maintenance service will suffer a loss in performance.
We offer tailor made maintenance programs for most of our solutions which can complement your own in-company maintenance work and staffing and which suit with the usage and availability of the equipment in your environment. Preventative maintenance demonstrably increases uptime and machine life.
Despite all our efforts made by remote service specialists, sometimes the only option is to tackle the fault on the spot. Our experienced and skilled service technicians will be quickly on site to sort out the problem and get your system up and running again.
Keep up with innovation and ensure the support and serviceability for your solution with the installation of the corresponding upgrade offerings. We offer hardware or software upgrades to increase productivity or to improve output quality as well as to extend functionality and service life.
Our refurbishment services will give your machines a second life, so that you can continue using them. The refurbishment is carried out by qualified engineers. After an initial inspection, your machine is cleaned, refurbished as required and tested for performance.
By answering a few simple questions and discussing any specific problems you are experiencing, we can help simplify the choices.
Pricing is typically available within a few days.
Onsite service is available with all maintenance options and is strongly recommended for some of them. Some customers are well equipped with the necessary
tools and experienced maintenance personnel. Other customers have smaller production facilities without dedicated maintenance area and staff.


Our main maintenance service activities are in the filed of UV systems and electron beams systems.
For energy electron beam technology, we can serve:
1. Low energy (80 – 300 keV) Laboratory or Pilot units
fmr AEB ADU unit
fmr ebeam Technologies EBlab 200
fmr ebeam Technologies EBlab 300
fmrTaubert EB conveyors
fmr Polymer Physics EB conveyor
2. All PCT EBI low energy products (Broadbeam®, Omnia®, Invictus®, Dynamic®).
But through our partnerships with MSE, we can also provide services on medium (500 keV to 5 MeV) and high energy ebeam units (up to 10 MeV).
Do not hesitate to contact us for parts !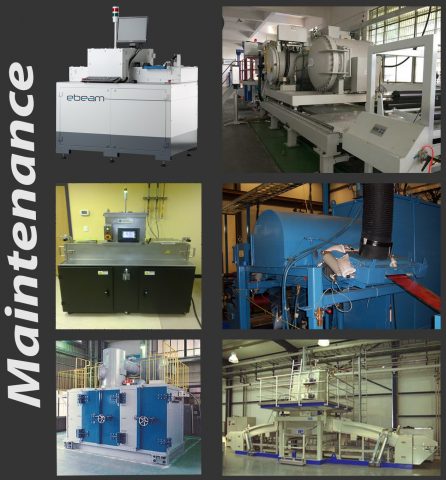 In either situation we can help!