The SILVERLINE UV RADIOMETERs are rugged, probe-style UV measurement devices. These simple-to-operate radiometers measure UV Intensity (mW/cm²).
The Silver Line radiometers have 2 resolution settings. The x1 setting displays UV intensities from 0 to 19.99 mW/cm², while the x10 setting displays from 0 to 199.90 mW/cm². The rugged metal-housed sensor is capable of withstanding high temperatures and moderate shock. While exposed to the heat of UV curing lamps, the Silver Line radiometer probe can withstand 110°C for up to 10 seconds. The temperature of the housing should not exceed 45°C.
An Auto Off function shuts down the unit after one minute of inactivity to save battery energy.
Th Silver Line uses user replace-able AAA batteries.
The Silver Line series offers 4 models, each measuring a different UV wavelength:
UV-A: 315 – 400nm
UV-B: 280 – 315nm
UV-C: 230 – 280nm
Full UV: 230 – 410nm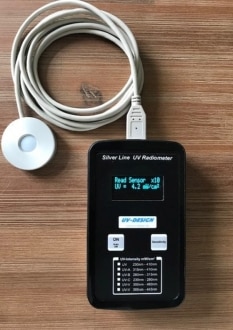 Delivery time : 3-4 weeks
Delivery time : 3-4 weeks
SPECIFICATIONS:
Max. Power Input: Sensor input to 1,000 W/cm² 
Display: LCD, 4 digits 
Range x1:   0 – 19.99 mW/cm² 
Range x10:   0 – 199.90 mW/cm² 
Base Accuracy: ±5%
Power Source: AAA batteries (user replace-able) 
Dimensions (housing): H x W x D 140 x 70 x 13mm
Dimensions (sensor): D 40 x 10mm – 1m length 
Weight: 200 g
 
Please Specify resolution settings at order !
Delivery time : 3-4 weeks
Delivery time : 3-4 weeks
Delivery time : 3-4 weeks