General Radiometers - Sunburn UV Meter, UV Hazard, CD & DVD UV Radiometers
Sunburning and UVA Intensity Meters
Radiometer capable of measuring the UV-A and UV-B spectrum. The meter shows the intensity of UV-B (also called SUV - Sunburning UV) in Minimal Erythemal Doses per Hour (MED/Hr), the accepted clinical measure for sunburn potential. The UV-A detector measures the range between 320-400 nm, displaying irradiance in mW/cm². This unit features a hold toggle that freezes the present reading, an auto shut off meter that turns the unit off after 8 minutes with near zero reading, and 3 ft extension cables for each detector.
METER SPECIFICATIONS:
UV-B (SUV) Readout range: 0 -19.99 MED/HR UV-A or Readout range: 0-19.99mW/cm² 
Resolution: 0.01 MED/HR or mW/cm² / Operating temperature: 0 to +50°C / Power source: 9V alkaline battery
Spectral Response 280-320nm / Operating Temperature -10°C to +60°C
Spectral Response 320-400nm / Operating Temperature -10°C to +60°C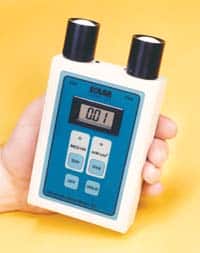 The UV HAZARD RADIOMETER (Ultraviolet Safety Meter) is a hand-held laboratory and industrial grade instrument that measures the UV radiation hazard to eyes and skin. A valuable safety tool for any industry that involves worker exposure to UV radiation. It is sensitive to ultraviolet radiation specified as hazardous in standards published by the American Conference of Governmental Industrial Hygienists. Those standards state that the total UV exposure in an eight-hour period should not exceed 3 milliJoules per square centimeter at 270nm. Other wavelengths have hazardous potential related to that of 270nm by the Spectral Weighting Function (see figure available in this menu). The Safety Meter monitors the integrated effect of all ultraviolet wavelengths from the light source.
APPLICATIONS
UV curing industry

Printing
Spectrometry
Environmental testingWelding
Commercial lighting
Semiconductor fabrication
Clinics using steri-lamps
CONFIGURATION
This Ultraviolet Safety Meter comes as a hand-held unit with a self-contained detector mounted on the top panel of the meter. It is activated by a sliding ON/OFF switch. The maximum safe exposure time in hours and 1/100 parts of an hour is shown on the LCD. A reading of 10.00 hours indicates a source too weak to reach the Threshold Limit Value during 8 hour working day.
SPECIFICATIONS
Spectral response Follows ACGIH SWF recommendation from 250 to 400 nm (see figure above)

Viewing angle 60 degrees
Readout range 0.03 hours to 10.00 hours
Operating temperature 0 to +40°C
Power 9V alkaline battery (200 hour battery life)
Size 6 x 3.2 x 1.5" (15 x 8 x 3.8 cm)
Weight 7 oz (200 grams)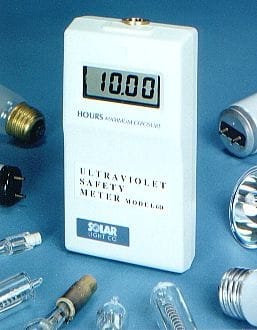 The UV-INTEGRATOR DVD FOR CD is a self-contained, high quality UV measuring instrument.
UV-intensity mW/cm2

UV-dose mJ/cm2

Temperature measuring °C/°F
Special design Æ 4.7" / 120 mm with center hole
It is specially designed to measure, record and display peak UV intensity, UV dosage and temperature in the UV curing process of CD and DVD production. In the standard version it is equipped with one UV sensor and one temperature sensor for the measuring of:
Full UV 230 – 410 nm

Temp 32° to 230° F / 0° to 110° C
With this total UV band measuring, extra temperature measuring and its special size and design it is particularly suitable to cover the measuring requirements of UV curing applications in CD and DVD production. Due to its UV sensor and the integrated microprocessor the UV-T Integrator DVD can measure, record and display the peak UV-intensity of the total UV spectrum (mW/cm2).
Additionally, this UV-Integrator is calculating the UV-dosage (mJ/cm2) of the UV energy supplied during the time of exposure of one measuring cycle. The UV-dosage is calculated as the total Integral of UVdosage over the full UV spectral bands. An extra sensor measures temperatures from 32° to 230° F / 0° to 110° C The two sensors are on the back of the unit which also serves as a heat shield. After completion of the measuring cycle all measuring results can be scrolled through on the built in 2 x 16 digit LCD display. A special AUTO-OFF feature that turns off the unit automatically after one minute serves as energy saving and extension of the battery service life. As an option, this microprocessor integrator is additionally equipped with an USB ComPort and an evaluation software for downloading the data to a computer to show, edit and store a history of the measuring results of the entire measuring cycle as graphic charts (mW/cm2) and (mJ cm2) and (°C/°F)
TECHNICAL DATA
Spectral range: UV 230 – 410 nm (Standard)

Max. Power Input 0 to 5,000 mW/cm2
Measuring range: 0 to 230° F / 0 to 110° C
Display: LCD, 2x16 digits
Display range: 0 to 36,000 mJ/cm2
Measuring range: 0 to 2,000 mW/cm2
Sampling rate: 0.005 sec (200/sec)
Recording cycle: 30 sec.
Power source: 2 x long life 3.6 V Lithium Battery
Power consumption: 20 µA
Battery service life: 2,000 hrs
Dimensions: Æ 4.7" (120 mm), height 1/4" (6,5 mm)
Weight: approx. 10,5 ounce (290 g)
Operating temperature: 32 to 113° F / 0 to 45° C
Heat protection: Heat shield on back plate
Base Accuracy: ± 5 %
While on the conveyer belt, the UV-T Integrator DVD can withstand max. 230° F / 110° C for up to 10 seconds. The temperature of the housing should not exceed 113° F / 45° C. Because of uneven radiation distribution of the UV light source and different type of construction of the measuring devices by different manufacturers, different readings may appear under the same measurement conditions.
CALIBRATION
In order to keep its full function and precision it is recommended to have re-calibration done once per year. Re-calibration will also be necessary after change of battery. PTB traceable calibration with certificate.