SOLAR SERIES RADIOMETERS are 3 palm-sized precision instruments measure UV light for a variety of applications.
The 6.5 and 6.0 measure via a Silicon Carbide (SIC) Photodiode packaged in hermetically sealed UV glass window cap. (the 5.0 uses GaAsP photodiode chip and UV filter.)
Solar 5.0 measures total UV-A and UV-B (280-400nm) and is ideal for evaluating UV lamp intensity during its life span.
Solar 6.0 measures UV-B (280-320nm) and is ideal for determining lamp UV-B intensity and acrylic transmission.
Solar 6.5 measures environmental (outdoor) solar intensity (290-400nm, peaking between 297-310nm) and provides LCD readout in mW/m² SUV/25 (the WMO international standard for displaying erythemally weighted irradiance on a 1-15 scale).
Point the meter at the UV light source (leakage) and record reading.
Calibrated to accuracy standards referenced to NIST.
Delivery time : 3-4 weeks
Delivery time : 3-4 weeks
Delivery time : 3-4 weeks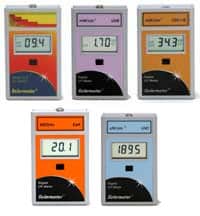 | | | |
| --- | --- | --- |
| 5.0 SPECIFICATIONS | 6.0 SPECIFICATIONS | 6.5 SPECIFICATIONS |
| Irradiation Range: 0-200 mW/cm2 – Total UV | Irradiation Range: 0-20 mW/cm² – UV-B | Peak sunlight response bandwidth: 290-298 nm |
| Response 280-400 nm(UVB thru UVA) | Response 280-320 nm | Total solar response: 290-400nm – Diffey |
| Resolution 0.1 mW/cm² | Resolution 0.01 mW/cm² | Resolution: 0.1 UVI |
| Conv. Rate 3.0 Readings/Sec | Conv. Rate 3.0 Readings/Sec |   |
| Display 3.5 Digit LCD | Display 3.5 Digit LCD | Display: 3 ½ digit LCD |
| Accuracy ±5% REF.NIST | Accuracy ±10% REF.NIST | Accuracy: ±10% ref NIST |
| Power Source 9V DC Battery | Power Source 9V DC Battery | Power Source: 9V DC battery |
| Lens UVT Acrylic .030 | Lens UV Glass |   |
| Diffuser Virgin Teflon .010 | Diffuser Virgin Teflon .005 |   |