UV LED CURE-ALL LINEAR: The patented (U.S. Patent No. 7,137,696 and with other patents pending) , innovative UV curing system can be fabricated to fit your exact UV curing needs and specifications. The varied configurations seen on the left of this page were all custom designed based on customer's requests. This product is the first fully customizable UV curing lamp system that is unlimited in its scale and shape. This flexibility makes it a natural solution for challenging UV curing environments.
This amazing new lamp can simply perform in ways that current lamps cannot. In order to truly maximize the potential of this lamp technology, you need to forget all of your current assumptions in regards to how UV curing works. This lamp technology defies accepted UV curing limitations. It is simply doing what it should not be allowed to do. It's curing faster. Its power consumption is minimal. The mechanism of cure is operating beyond current standards, due to the fact that this lamp is 100% efficient.
A need was identified to be able to accurately measure cure with UV LED's. The question was, "which wavelengths perform better?" We have defined performing better as curing better. So, we developed a procedure using the TFC-9000 to quantitatively evaluate the curing of polymers with UV LED's. This allows us to easily determine which LED wavelength we should use in designing an LED curing system for use with a specific polymer.
This recent test performed by the TFC-9000 clearly demonstrated the effects of curing a UV curable coating with different UV wavelengths. The same coating was cured with 3 unique UV LED lamps and the resultant curves were overlaid for evaluation. The TFC-9000's measured results (in the graph above right) clearly show that while all 3 lamps cured the sample in approximately the same amount of time, the UV LED lamp at 415nm cured the coating significantly better than the other 2 UV LED wavelengths. The best curing LED wavelength is identified as the curve with the highest peak of heat. As well, we are also able to measure the time to peak (which is the cure rate). This allows us to determine the number of LED's needed to achieve the desired speed for each customer's specific process. In this test, to achieve the required cure rate for the specified application line speed, a linear array of 300 LED's is needed.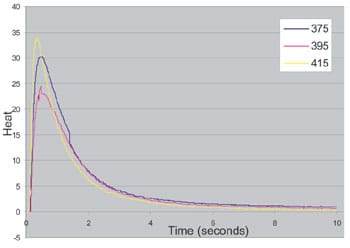 | | |
| --- | --- |
| UV curing without heat! | Heat sensitive substrates (films - foils - DVDs - CDs - etc.) |
| UV curing without radiometers! | Consistent lamp output for tens of thousands of hours! |
| UV curing without replacement lamps! | Keep your line running - no downtime! |
FEATURES: 
Instant on/off 

Emits no heat
Tens of thousands of hours of lamp life
Scalable from 1"-1000'--can be sized exactly to your specifications
Non-hazardous lamp
Powered by universal power wall adapter
BENEFITS: 
No shutters needed 

Able to cure heat sensitive substrates
No costly replacement parts required - no downtime!
Greatly expands market potential to include areas previously unavailable to UV technology
No need for radiometers
Now Commercially Curing:
Adhesives

Opaque Black Inks
Wide Format Ink Jet
Wire Marking Inks
Flexo Inks
Screen Inks
Coatings
Fillers
Primers
Current Applications:
Ink Jet

Laminating Adhesive
Silicone Release Lining
3-D Curing
Narrow Web Flexo
CD/DVD
Wood Repair/Finishing
Wire Marking/Tacking
Medical Assembly
These revolutionary WIDE FORMAT UV LED LIGHTS produce intensities that are worlds apart from previous models. LED's provide energy efficient, consistent, low heat, non-hazardous curing power! A very wide spectrum of materials can be quickly cured with this next-generation, extraordinarily compact LED curing unit.
Pictured above is our 48 inch wide single row LED Light, item number A160-481A.
These LED Lights are available in a variety of widths, incrementally by 12".
For greater dose, they are available in double, triple, or even quadruple row configurations on a single heat sink! All styles presently emit 400nm (+/-5nm). Future wavelengths under development.
For more information about the UV LED lamps and their price, please contact us