Spot Cure - Mercury short arc lamp or LED ?
The equipment's 5,000mW/cm² of initial ouput delivers a peak intensity of 365nm and the maximum energy for spot curing UV adhesives, inks or coatings. 5mm x 1m liquid filled light guide incorporates a dichroic reflector to reduce IR build-up. Vertical bulb orientation produces maximum output and extended bulb life. No tools are required to open lamp reflector assembly for reduced downtime. Digital shutter timer with foot switch permits hands-free operation.
While lamp intensity of this system starts in excess of 5000 mW/cm², over the life of the lamp this intensity degrades to 40% of initial output after about 1000 lamp hours. This is a standard characteristic of all arc lamps. Since most UV chemistries need less than 1000 mW/cm² of UV to initiate proper photoinitiator reaction, the 2000 mW/cm² of power towards the end of the lamp life is more than twice that needed to provide proper UV cure.
Solid-state power supply includes bulb life hour meter, and temperature controlled dual cooling fan system. Compact, anodized enclosure has a footprint of only 25 x 33 cm. Total weight: 5.5 kg.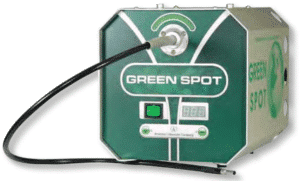 UV Spotcure System 5000
Delivery time : 3-4 weeks
UV Spotcure Powerarc UV100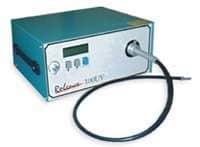 UV Spotcure Powerarc UV100
Delivery time : 3-4 weeks
The PowerArc UV100 is the perfect unit for rapid, controlled UV curing. This low cost, yet powerful unit minimizes IR and maximizes UV output for quick curing and low risk of component overheating. It can be used in manual applications or mounted for automated processes. The adjustable lamp intensity peaks at a powerful 7W/cm² at 365 nm.
Features:
Compact, reliable and easy movement
Easy operation - precision control
Durable construction
Low maintenance, long lamp life results, higher throughput
Fast and easy lamp replacement
Working hours UV lamp counter
Lamp: 100 W mercury short arc lamp
Lamp life: 1000 hours warranteed
Peak intensity: 7 W/cm² @ 365 nm peak
Output: 100 W/cm² (250 nm - 500 nm)
Light delivery: F 5 mm x 1M toxic-free liquid light guide (single)
Warm up: 2 minutes
Dimensions: 16 cm H x 33 cm W x 27 cm D
Weight: 9.5 kg
Power Supply: 230V, 50 Hz
UV LED spotlight curing systems deliver an optimized curing energy on a very precise point. They can be used manaually by an operator or integrated into a high-speed automated assembly line.
The UV LED spot curing lamp choice will differ according to insolation surface size, UV power/energy & controlling mode needed.
UV LED curing systems offer low energy consumption, no warm-up time and a long lifetime.
Products that we can offer include:
UPEN : Wireless & Powerful UV Curing Pen
UTARGET : Powerful & Portable UV Curing Pen
UFIBER : Precise & Compact UV Curing Spot
USHARP : Homogeneous & Precise UV Spot
USPOT :  Powerful & Robust UV Curing Spot