Compact Sensor Radiometers (Single and Multiple Channel)
MICRO PUCK (SERIES) Compact Sensor Radiometers The MICRO PUCK™ (SERIES) RADIOMETER is a unique instrument that enables UV measurement in extremely difficult to access environments. Compact UV sensors make it possible to measure UV Dose even in most confined UV curing units. The MICRO PUCK system consists of two parts: a hand-held base unit with a display and a UV sensor. Simply plug the sensor into the base unit to view the measured results. The MICRO PUCK is available in four different measuring ranges: UV-A, UV-B, UV-C, UV-V, or Full UV.
The MICRO PUCK comes complete with the sensor shape of your choice (round or rectangular) and in the UV range you desire. *NOTE: this model only works with the one sensor it ships with. If you need a multi sensor compatible base , choose the MICRO PUCK MULTI below.
While the MICRO PUCK can only read from the one sensor it ships with, the MICRO PUCK MULTI, can accommodate up to 8 sensors that read from the same base unit. This system can combine sensors from different UV spectral ranges, allowing for full spectrum, 3-D UV evaluation. The MICRO PUCK MULTI ships with 1 sensor in the shape of your choice (round or rectangular) and in the UV range you desire. For additional sensors (up to 8 total will work with this unit), simply select the type your need.
Both models come with a re-chargeable accu with charger
The sensors are available as either a rectangular or a round model. Both sensors work with both base units and are available in each of the 4 different UV measuring ranges.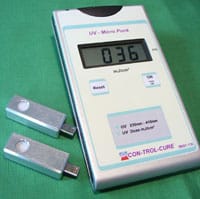 SPECIFICATIONS
Spectral Range: UV-A, UV-B, UV-C, UV-V, or Full UV

Max. Power Input: 0 to 5,000 mW/cm²
Display Range: 0 to 1,999 mJ/cm² (standard) or 0 to 19,990 mJ/cm² (x10 type) Power Source: 2 x 2,000 hrs 3.6 V Lithium Battery
Sensor Max. Temp.: 110°C (230°F) for up to 10 seconds
Dimensions of Reader: 5.5" x 3" x 0.4" (140 x 75 x 10mm)
Dimensions of Sensor: Rectangular: 1.5" x 0.6" x 0.5" (40 x 15 x 12mm)
Round: Diameter 1.5" x 0.35" (40 x 9mm)
Round: (only M007-144) Diameter 1.5" x 0.25" (40 x 6mm)