UV Intensity Labels for UV Exposure Measurement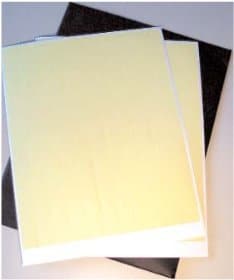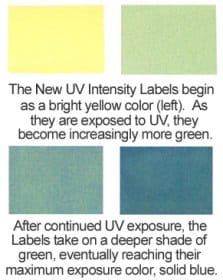 The CONTROL-CURE® UV INTENSITY LABELS™ photochromic intensity indicators are a basic, reliable, low cost, simple, in-house method of monitoring UV intensity. When exposed to UV, the yellow labels undergo a gradual color change from yellow to blue that is directly related to the energy value received.
Made from the same exclusive material as the UV FastCheck Strips™, the The UV Intensity Labels™ (N010-005) have the same color changing principle as the Strips, but they have only 1 color changing square. The UV Intensity Labels have a sensitivity range that is perfect for visual inspection of UV energy levels. The UV-C Intensity Labels (N010-004) offer an improved response to the UV-C spectrum, providing a better visual indication for lower power germicidal applications.
The adhesive backed label is placed on a sample product or substrate and processed to proper cure rate. The color deviation can easily be measured with a spectrophotometer to record color change or by comparing the colors to test labels created to known operating standards to determine lamp failure or processing inconsistency. NOTE: For best results, observe color change immediately after exposure to UV light as label may change.
If used on a regular basis, they can detect equipment problems at an early enough stage to prevent lengthy shutdowns. Daily tests can easily indicate a step by step calibration for an accurate reference within each batch. The use of a Digital Tachometer can help insure repeatable results.
Suggested Use: the ConTrol-Cure® Intensity Labels™ are especially useful in systems where other instruments are not practical, such as 3-D curing, web coating, container printing, medical sterilization, etc.
FEATURES:
The UV Intensity Labels™ measure the entire UV spectrum

Accurate visual determination of UV dose made possible
Monitor UV dose in difficult-to-access curing environments
Detect UV lamp degradation and equipment failures
Provide the user with periodic assurance that their UV source is performing to expectations
Greater rate of color change provides clearer, more precise UV dose determination
Determine the dose profile in the 3D curing chambers or across wide webs to ensure even cure
Measure the dose of sunlight in outdoor curing applications
Evaluate and compare multiple UV light sources
SPECIFICATIONS: The UV Intensity Labels™
The UV Intensity Labels™ are available in packages of 990 labels (9 sheets of 110 labels per sheet.)

The UV Intensity Labels™ Dimensions: ¾"H x 1"W (19mm x 25mm).
SPECIFICATIONS: UV-C Intensity Labels
UV-C Intensity Labels are available in packages of 550 labels (10 sheets of 55 labels per sheet.)

UV-C Intensity Labels Dimensions: 1/2"H x 3/4"W (12mm x 19mm).
SHELF LIFE/STORAGE:
Shelf life is currently rated at 12 months minimum.

Usage well beyond current rating is possible with proper storage.
Store in the original packaging out of direct light and away from excessive heat or moisture.
Store package flat, not vertical.
Ideal storage location is within a cool and dry location like a drawer.
Additional Uses:
Great for school science projects and science fairs, as they are simple to use and are able to demonstrate the levels of Ultraviolet intensity.